Continuing to challenge the boundaries of precision product manufacturing using cold forging technologies.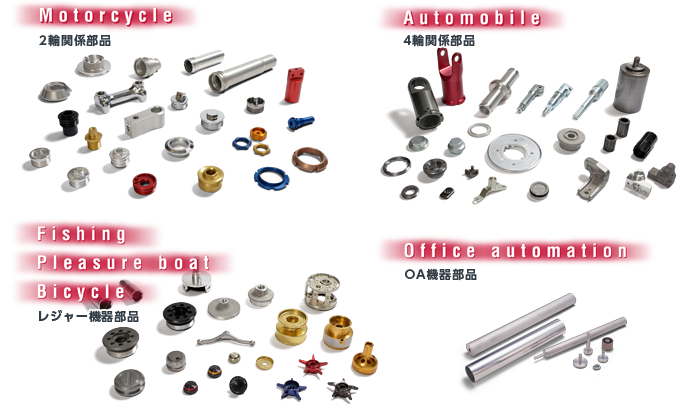 Aluminum cold forging process illustration
We select high-quality materials suited to precision cold forging and make precision cuts based on the set volume.
A press is then used to form the materials into a shape and material diameter suited to the cold forging process which is characterised by the small clearance between the material and the die.
This is a heat treatment process used to increase uniformity of the material structure in order to improve suitability of the material for the cold forging process.
Lubrication is important to reduce friction between the material and the die and prevent fusing during the cold forging process.
The cold forging process is used to produce dimensions close to product specifications based on various test data and process design. >> watch the video
Aluminum and other materials may be subject to heat treatment in order to increase mechanical strength.
The cold forged product is then finished to the set product dimensions.
Surface treatments such as alumite, plating and alodine etc. are used to improve the external appearance of the product and increase its resistance to corrosion.
The product then passes through a thorough inspection process before being shipped off to the customer.
production Structure
Gunma Seiko has achieved high-quality and high-productivity aluminum processing and is building a cold forging continuous production structure.
Cold forging has a variety of merits, but forging complexly shaped aluminum products at room temperature also demands a higher degree of skill. This requires all-around forging expertise, from materials research on aluminum, to finishing processes, lubricants, and die precision. Since its founding, Gunma Seiko has used its wealth of accumulated forging know-how to build an integrated production system running the gamut from optimum material selection, to die design and forging, to cutting and other post processing. We have developed a high-precision manufacturing process which meets customer demands for production in smaller lots and greater variety. With our untiring efforts to improve ironing techniques using proprietary hydraulic presses and develop new processing technologies to cut costs by reducing the number of processes, Gunma Seiko continues to pioneer the aluminum cold forging industry, developing technologies that are always a step ahead of the field.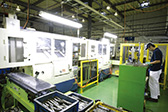 NC lathe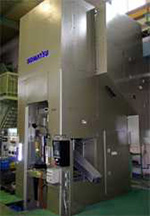 Cold-forge press
Die Design and Production
High Accuracy and Speed by Combining Accumulated Technological Know-how and Leading-edge Computer Technology
Die processing technology is what makes producing high-quality products through cold forging possible. As product development lead times become increasingly shorter, speed as well as accuracy become the requirements for die design and production. Gunma Seiko has continued to research materials for manufacturing the appropriate dies, to quantify the pressures during forging and material flows, and to implement the latest two-dimensional simulation systems and electro discharge machine. This is making possible the formation of a structure to manufacturer high-accuracy dies with greater speed.

Forge simulation
Dies
Quality Assurance
The Pursuit of High-quality by Each Employee is what Builds Strong Customer Trust
The challenge to create higher quality products-That has been the unchanging theme of Gunma Seiko since its founding. Every employee pursues quality in every manufacturing process to build a strong reputation for quality with customers. The Company also aims to obtain ISO certification to meet the challenges of the global age.
Delivery Control
Construction of a Delivery Control System to Provide the Speed and Accuracy Required for Supporting Many-type Small-lot Production
The many-type small-lot production age requires that products be accurately supplied when needed in the quantities needed. Gunma Seiko fully uses computers from online ordering to control of all processes to provide the quick deliveries needed by customers.